We're sorry, but all tickets sales have ended because the event is expired.
December 12, 2017 - December 15, 2017




8:00 am - 4:00 pm
Non-Escalation, De-Escalation and Crisis Intervention for Contact Professionals (Verbal Defense & Influence)
Four-Day Instructor Certification
[Registration details, including registrant substitution information, as well as lodging and travel details at the bottom of this page]
Important: There is an online pre-work component that must be completed prior to attending this class.
----------------
Summary
This four-day course certifies individuals as instructors for Vistelar's Conflict Management for Contact Professionals training program (Verbal Defense & Influence™), so they are authorized to teach this program within their organization.
This course covers non-escalation (conflict prevention), de-escalation and crisis intervention tactics — but not physical alternative tactics (control, stabilization, non-lethal/lethal weapons). The training is focused on the point of impact — the short period of time when a disagreement or insult can escalate to conflict and on to emotional and/or physical violence.
The material in this course is the subject of four published books in Vistelar's Confidence in Conflict series and has been taught by Vistelar's trainers for over three decades. The program's structured framework makes it easy to learn, remember and apply -- and simple to teach.
The course uses a "fire drill vs. fire talk" approach to training to ensure students develop the knowledge, skill and ability to manage real conflict in the real world. Class time emphasizes student interaction, scenario-based skill practice (using a proprietary video recording/review technology), analysis of real-life events captured on video and memorable stories ("peace stories").
This course is designed for "conflict professionals" in law enforcement, corrections, healthcare (patient care and security), education, security and loss prevention, public transit, EMS/fire, utilities, customer service and the military — and is taught by professional trainers with extensive law enforcement backgrounds.
Each participant receives access to an online pre-work program, a student workbook, an instructor binder and, following class, access to an online instructor-resource website. Participants leave the course fully-prepared to teach Verbal Defense & Influence within their organizations.
Download Training Announcement

Personal Benefits (P.O.L.E.)
Personal Safety: improved relationships, self-confidence and physical safety
Organizational Safety: improved morale and job performance
Legal Safety: less risk of personal liability
Emotional Safety: increased competence in dealing with verbal abuse and bullying
Organizational Benefits
Higher levels of customer satisfaction
Lower workplace stress levels
Reduced complaints, liability and injuries
Less use-of-force incidents
Registration — Two Options
 Pay Online Using A Credit Card: Click on Order Now at the top of this page, fill out the registration form with your credit card information and and click on Pay Now at the bottom of the page.
Pay By Check: Click on Show Other Payment Options at the top of this page, fill out the registration form and click on Pay By Check at the bottom of the page.
Request An Invoice: Click on Show Other Payment Options at the top of this page, fill out the registration form and click on Send An Invoice at the bottom of the page.
If you are paying by check or against an invoice, payment is due within 10 days of your registration. Please mail payments to:
Vistelar, LLC
Attn: Accounts Receivable
1845 N Farwell Ave., Suite 210
Milwaukee, WI 53202
Cancellation Policy
If you are not able to attend, please notify us by email as soon as possible.
Cancellations more than seven (7) business days before the first day of this course will receive a refund of the amount paid minus a $150 administrative fee.
Cancellations between seven (7) and two (2) days of the first day of the course will receive a refund of the amount paid minus a $250 administrative fee.
No refund will be made for cancellations within two (2) days of the first day of the course.
Vistelar reserves the right to cancel this course if there are insufficient registrations and, if that occurs, a full refund of the amount paid will be made.
Please allow two weeks to process any refund.
Travel, Lodging and Logistics
Nearest airport and distance from the training location: Maccarren
Hotel Recommendation(s): Golden Nugget Hotel
Note: There is no group rate at this hotel. Attendees must make individual lodging and travel arrangements.
Please bring a smartphone to class to use in our video practice sessions. If that's not possible, contact Vistelar to make alternative plans.
More Information
Like all Vistelar's courses, this course is taught from the perspective of the entire spectrum of human conflict (Vistelar's "6 Cs" : Context, Contact, Conflict, Crisis, Combat and Closure) and is easily integrated into existing training and policies/procedures of an organization.
Another focus on Vistelar's training is to teach "how to look professional on camera no matter how the situation ends up." In the current video-centric world, it's now critical that "contact professionals" know how to ensure their actions (non-verbal, verbal, physical) aren't misrepresented when viewed on camera and that their incident report matches the video record.
For law enforcement professionals, this course aligns with the Final Report of the President's Task Force on 21st Century Policing and with PERF's 30 Guiding Principles On Use of Force. For example, the following topics are covered:
Guardian Mindset
Procedural Justice
Community Engagement
De-escalation
Crisis Intervention
----------------
About the Instructor
Students at this class are in for a treat. Gary Klugiewicz is one of the original founders of Vistelar and is a Director at the company. He has an extensive background in law enforcement and corrections and has been a professional trainer for over 25 years.
To learn more about Gary, please review Vistelar's Origins of Verbal Defense & Influence and Origins of Vistelar's Tactical Training write-ups.
Additional Information
View scores of testimonials and peace stories
View an overview of who Vistelar trains
Learning Objectives
Students successfully completing the course will be able to:
Foundations
Explain the importance of establishing a social contract and describe how to develop a social contract
Explain the Emotionally Safe Performance-Driven Instruction approach to training
List the components of the Non-Escalation De-Escalation card
Share personal life experiences
General
Describe the three universal triggers to conflict
Explain the need for being effective at conflict management
Describe the entire spectrum of human conflict
Explain how to establish a classroom social contract
Dignity, Respect and Empathy
Explain the distinction between dignity and respect
List the Five Maxims for how to show respect
Explain the Empathy Triad
Perform a Five Maxim explanation
Be Alert & Decisive / Respond, Don't React
Explain the importance of having a pre-planned, practiced response
Identify your personal triggers to the negative impact of conflict
List and describe the conditions-of-awareness levels
Identify three of the nonverbal cues for managing conflict
Perform an emotion guard to a personal trigger
Showtime Mindset
Perform the Showtime Mindset
Explain the importance of nonverbal communication
Describe how posture affects self-confidence
Describe the four levels of verbal intensity
List several peace and anti-peace phrases
Proxemics 10-5-2
Explain the purpose of proxemics
Describe the main elements of personal safety awareness
Describe the 10-5-2 rule
Perform four proxemics tactics
Perform how to avert a variety of personal attacks
Universal Greeting
Describe the best way to make an initial contact
List the four parts of the Universal Greeting
Explain the universality of the Universal Greeting
Explain how the Universal Greeting establishes a supportive atmosphere
Perform a Universal Greeting in a common scenario in your job
Beyond Active Listening
Explain the inadequacy of just active listening
Explain why empathy is so critical to effective communication
List the six components of Beyond Active Listening
Explain why people often won't share their real concerns or issues
Perform an interaction using Beyond Active Listening
Crisis Intervention
Describe the three types of people with special needs
Explain why understanding the various types of mental illnesses is of less importance when dealing with someone in crisis at the point of impact
List the four steps of effective crisis intervention
List the four strategies for effective crisis intervention
Redirections
List the main types of Redirections
Explain why Redirections can help stop verbal abuse and bullying
Describe when to use a Redirection to enhance Beyond Active Listening
Perform a Redirection appropriate for a common scenario in your job
Perform a Redirection during a Persuasion Sequence
Persuasion Sequence
List the five steps of the Persuasion Sequence
Explain how to use this tactic when someone refuses your verbal direction
Explain the association of the Five Maxims and the Persuasion Sequence
Create a Persuasion Sequence script for a common scenario in your job and perform it using this script
When Words Alone Fail
Describe when it's necessary to stop talking and take action
Identify the two indicators that words alone have failed
Explain the conditions when someone else's words create a safety threat
Describe a When Words Alone Fail scenario for your discipline
State the criteria for an intervention to be justifiable
Ethical Intervention
State the two reasons why bystanders typically do not intervene
Describe when professionals have a duty to intervene
List the three methods for ethical intervention
Demonstrate a tap-out procedure
Develop ethical intervention options for yourself
Review / Report
Explain the Closure Principle
Explain the purpose of debriefing
Describe the elements of an effective incident report
Explain how ensure your incident report matches the video record
Perform an effective debrief
Instructor Skills
Teach various class formats using the Communicating Under Pressure chart and the "6 C's"
Facilitate scenario-based skill practice sessions
Lead a discussion to analyze video scenarios
Lead a debrief session using VDI language
Develop an action plan for implementing VDI within your organization
Emotionally Safe Performance-Driven Instruction
Describe the main elements of this form of instruction
Explain the distinction between education and training
Explain the importance of student interaction to the learning process
Explain the importance of developing peace stories
Lead at least two Performance-Driven instruction activities
 ----------------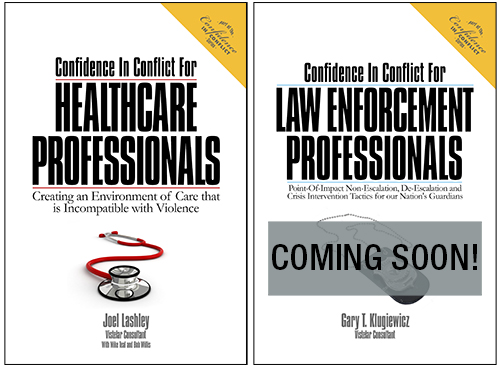 Venue Phone: 702-828-3507
Address:
400 S MLK Blvd
,
Las Vegas
,
Nevada
,
89002
,
United States